May 13, 2023 11:00 am - 4:00 pm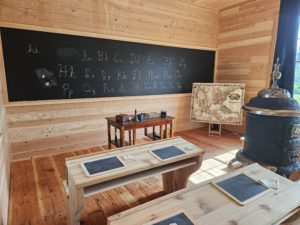 Philip Foster Farm is proud to announce the opening of the reproduction of Eagle Creek's first schoolhouse. This school was the first successful public school in Oregon (likely the first such school west of the Mississippi), and was reproduced from original documents, including photographs of the building and the precise description of lumber used from the mill's bill of sale.
Celebrate the heritage of education in Oregon, as well as the birthday of Foster Descendant Tom Burnett, who lovingly designed and constructed it, with the support of many volunteers.
The schoolhouse does have a few modern amenities, including electric lighting and a wheelchair ramp.
Admission to the Farm is free on this day (normally $5.00 per person). Memberships will be available for those who want to support the Farm (annual adult $15.00, students and seniors $10.00, Family $35.00, lifetime individual $150.00).