Come the first or second Wednesday of October, from 10:00 to 2:00. $5.00 per person. $20 per family. Bring your picnic lunch and enjoy a day of hands-on history! No reservations required.
This event is different from our scheduled tours. After a brief orientation, families can decide how long they want to spend at each station, with time to explore more, take breaks, and talk about each activity with farm staff and volunteers. Cider pressing is another benefit of this special day for families.
Got questions? email [email protected]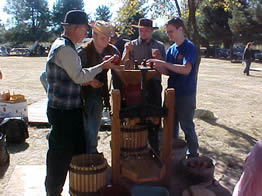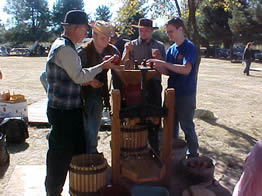 Third Saturday of September: Bring your apples, press ours, or buy cider. Vendors, food, craftsmen and musicians all day. Fun for the whole family. We will have both the old and new parking lots available for this event.
Admission: $5.00 for individuals. $20.00 for families. Admission is free for our members, including volunteers who have worked at least 10 hours for us this year.
Cider pressing: If you're bringing apples, please bring them to the parking lot on Eagle Creek Road.
– Press cider from your own apples: $3.00/gallon
– Press cider from our apples: $6.00/gallon
– Use our jugs: $1.00 each (jugs hold 1 gallon of cider)
– Pre-pressed, pasteurized cider: $7.00/gallon
What else is happening?
Live music, folk dancing, kids games, tours of the houses, store open for historic books, toys, games and souvenirs, 1860's barn with corn-grinding and cross-cut saw, Build a log cabin, use the laundry scrub board and wringer, check out our wagon shed, and visit our vendors. Blacksmithing and kids crafts. Good food, including hamburgers, hot dogs, and Joe's Donuts!
Please note: on the third Saturday of September there is a limit of 2 gallons per family, so everyone can have a turn. Please bring your apples to the bulk squeeze on Sunday afternoon from 2:00-6:00  for unlimited squeezing. AND if you have later apples to press, we will offer an additional bulk squeeze from 1-4:00 on the third Saturday of October. There is no admission charged for the bulk squeezes, and all parking is in the Eagle Creek lot.
Last Saturday before Halloween, 6:00-8:00 p.m. Admission $5.00/person, or $20.00/family.
There are no ghosts at the Farm, and the pioneers didn't celebrate Halloween, but we do have some stories to share about death and dying in pioneer times.
Your family will enjoy close encounters with characters from Eagle Creek's past, presented by student volunteers.
Interested in providing music, demonstrations, or selling goods at our events? Email [email protected] for more information