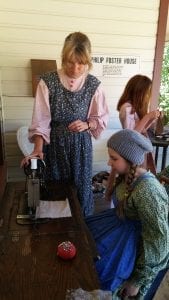 Volunteers are the heart of the Philip Foster Farm, and Chris Bento has been volunteering for a long time. She has helped summer campers with sewing projects on her own machine. She has made hundreds (no, thousands) of cookies for tours. She has helped with events and tours for years, and made many of our period dresses for summer camp.
Two of her daughters were Trails Across Time students and became summer staff in high school.
Now, Chris has joined our staff, in charge of costumes and cookies, and leading tours this spring.
If you want to help with costumes or baking projects, you can contact her at [email protected], or leave a message at 503-637-6324.