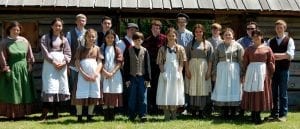 Thanks to our unique educational program, Trails Across Time teacher Elaine Butler was named the Middle School Citizenship Education Teacher of the Year for the Oregon Department of the Veterans of Foreign Wars. The VFW dinner in Newport on January 20th awarded the honor to Elementary, Middle School, and High School teachers, and provided students with cash awards for patriotic speeches on the theme of Hope in US History.
Middle and high school students in Trails Across Time help to manage and give tours at the Philip Foster Farm, study and learn together two days each week, and participate in classes and enrichment activities through Summit Learning Charter. Whether they come from homeschooling, private, or public schools, they form a "one-room schoolhouse" learning community where they can work, learn, and serve together as they develop academic skills, public speaking, community service, and work ethics in a positive, pro-family environment. Enrollment for the 2018-19 school year will open in April, and the class is limited to 20 students each year, although many participate for two or more years.
Mrs. Butler also directs Orchestracada, a community-based teaching orchestra for all ages and levels of musicians.