Join us in restoring The Lucy House; the oldest home on the Barlow Road of the Oregon Trail.
"One of the 10 most endangered historic structures in Oregon."

Oregon Historic Preservation League 2011 list of Oregon's Most Endangered Structures.
Please click below to DONATE your tax deductible contribution to our ongoing efforts for the Lucy House Restoration. Thanks to meticulous records, we know what Lucy had in 1860.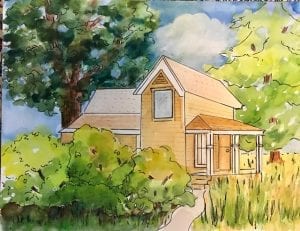 Lucy House still needs:
Wallpaper borders
Some furnishings.
History of the Lucy House:
The home was constructed in 1860 by Henry Wertheim for Philip Foster's daughter and her new husband; Lucy and Josiah Burnett. Invoices for the construction and furnishings for the home are in the possession of the JZH Historical Society and show the lumber cost of $199.07 for the home and complete furnishings including curtains, wall coverings, dishes, cookware etc. totaled $70.03.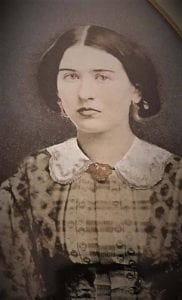 The home is a simple gable roof structure that was added to as the family grew.
The home is significant due to its association with the Foster family and as a mostly intact example of an early vernacular home. It is the oldest home on the Barlow Road of the Oregon Trail and was named one of the "10 Most Endangered Historic Structures in Oregon" in 2011 by the Oregon Historic Preservation League.
Future of the Lucy House
The Lucy House will become an important part of interpreting the history of early Oregon pioneer settlement at the Philip Foster Farm. The home will be renovated and furnished to approximate a "newly built" 1860 pre-electric home. The additional space allows us to expand our popular Pioneer Life school tours and allows us to tell the stories of the Foster family and of the pioneer women who helped settle early Oregon.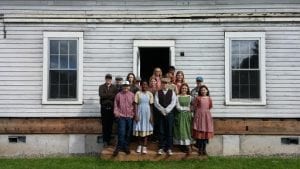 Recent article from Estacada News
Sponsors and Donations:
Thank you to the Kinsman Foundation, for their early support!
Add your name to our list of supporters by making a tax deductible contribution to:
JZH Historical Society
P.O. Box 1040
Estacada, OR 97023
Watch our efforts:
April, 2020: Wallpaper to be installed in the last of the rooms, thanks to a grant from the Kinsman Foundation.
May, 2019: Wallpaper and molding installed in 4 of 5 rooms, and "period" (only safer) lighting installed, thanks to a grant from Clackamas County Tourism (Mount Hood Territory).
March, 2019: Several private donors contributed furnishings, including some original Foster family items, stored for over 50 years right here in Eagle Creek.
Summer, 2018: Painting (inside and out) by Timber Lake Job Corps.
February, 2018: Custom cut siding installed, and roofing completed, thanks to generous grant from the Kinsman Foundation.
May 20, 2017: Lucy House Debut gives donors a chance to see the building and visit with Board Members and Foster descendants before internal restoration begins.
August, 2016: House is moved across the street to the Philip Foster Farm. Careful reconstruction begins by volunteers David Piper and Tom Burnett (great-grandson of Lucy and Josiah).
February 6, 2016: JZH Board of Directors makes the historic decision to move the house this summer.
2011 – Restore Oregon names the Josiah Burnett House one of Oregon's Most Endangered Places.
2008 – Years of planning fall through as grants for historic preservation dry up.
2000 – Lucy House, now oldest house left on the Barlow Road, is purchased by the Jacknife-Zion-Horseheaven Historical Society, and rented out to pay down the mortgage, with hopes of making it part of the historic site.
1993 – Philip Foster Farm opens to the public as a registered historic site.
1939 – Egbert and his wife, Mary Jane, die at home in Eagle Creek.
1879 – Lucy dies of tuberculosis ("consumption") at the home of her half brother, James, in Walla Walla Washington. Her sons Josiah E. "Eddie" and Augustus "Gus" Burnett are raised by her brother Egbert in Eagle Creek.
1875 – Josiah dies. Lucy eventually sells the house to local merchant Henry Wilburn, another German immigrant who also purchased Philip Foster's store.
1860 – House is built for Josiah and Lucy Burnett, by German immigrant Werheim, using $200.00 worth of locally milled lumber.
1859 – Josiah and Lucy settle near his family in Roseburg, Oregon. Lucy is homesick and lonely, as Josiah travels around the state in his role as surveyor. Foster writes to Josiah, promising 40 acres of land if he will bring his young family back to Eagle Creek.
1858 – Philip's daughter, Lucy, marries Josiah Burnett on December 26th, at Foster's home in Eagle Creek.