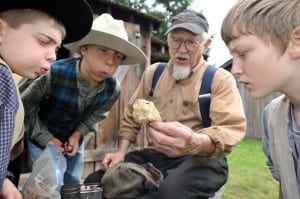 Come October 7 or 14 from 10:00 to 2:00. Admission is $5.00 per person or $20 per family. Purchase tickets in advance. Limit of 200 tickets per day available. Bring your picnic lunch and enjoy a day of hands-on history! 
This event is different from our scheduled tours. After a brief orientation, families can decide how long they want to spend at each station, with time to explore more, take breaks, and talk about each activity with farm staff and volunteers.
This year's theme is Timber!!!, highlighting the effects of Oregon's forests on its pioneers and its development.  Bring the teens and your favorite history buff to get a little deeper into Oregon Trail history.
Got questions? email [email protected]
Choose your date, and buy your tickets (1-4 per family – additional family members are free):
Come the first Wednesday, Thursday or Friday of October, from 10:00 to 2:00. $5.00 per person. $20 per family