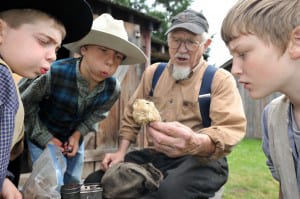 Due to Covid-19 restrictions, we are unable to hold our annual Homeschool Days in 2020. Instead, please consider the following options: 
All families are invited to visit our grounds at any time. Please be considerate of the health and safety of others and of our precious historic site. 
Groups of 10 or more can sign up for a tour on our website. Minimum charge is $70.00. We will adapt to your social distancing requirements. Masks are required inside the buildings, but most of the tour is outside. 
Individual families can visit on our volunteer days at 10:00 Wednesdays, from September 16th to October 28th. Cost is $6.00 for students, $5.00 for adults. 
Come the first Wednesday, Thursday or Friday of October, from 10:00 to 2:00. $5.00 per person. $20 per family. Bring your picnic lunch and enjoy a day of hands-on history! No reservations required.
This event is different from our scheduled tours. After a brief orientation, families can decide how long they want to spend at each station, with time to explore more, take breaks, and talk about each activity with farm staff and volunteers. Cider pressing is another benefit of this special day for families.
Got questions? email [email protected]