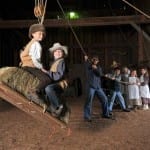 Living History Day Camp for boys and girls ages 7-12 will be July 19 to 23, from 9:00 to 3:00 each day. Eat, dress, build, and play like a pioneer! Registration deposit $50.00, $175.00 due first day of camp. Deposit mailed on safe return of the issued pioneer costume at end of camp. Register below or contact
[email protected]
for more information. Small cohorts experience pioneer life outdoors on this authentic Oregon Trail site.
$225.00 – $350.00Select options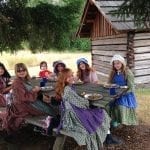 $50.00Add to cart
Just for girls, this camp goes from 9 to 4:00 on Friday, July 19, and then campers return to help present Mary Charlotte's Garden Party from 9-4:00 on Saturday. Packed with details about pioneer life, Victorian dress and manners, and plenty of time to visit, this camp is designed for girls who have outgrown the day camp, but want to continue the pioneer fun. Cost is just $50.00 and includes use of pioneer clothing for both days.
Mary Charlotte's Garden Party is an annual event highlighting the roles women played in the settlement of the west. This year's event celebrates the 101st anniversary of National Women's Suffrage, and features a demonstration of sidesaddle horse riding equipment.