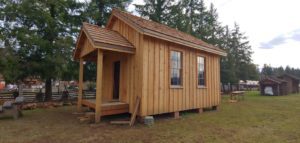 Groups of Volunteers (6th grade and up) can participate in this special program each spring.  We have space for 5 schools to each pick one day a week to send one adult and 10-15 students. They don't have to be the same students each week. Some schools use it as an incentive for kids that have their work done. Others as an incentive for kids to actually come and engage in school at all.
Here's what the timeline would look like:
1) Email
[email protected]
to pick your day (M-F) and put down the $1000 deposit to reserve it.
2) Beginning mid-March (except for spring break), one adult and 10-15 students would come each week on that day, arriving around 9:00 a.m. to report to our tour leader, put on their pioneer outfits and receive training on their stations.
3) Students help give tours of hands- on activities, historic house, store, and school. Each student is responsible for one station each week, usually giving 8-10 presentations between 10:15 and noon, so they become familiar with the station and learn to manage guests, practice public speaking, and gain lots of confidence in the process.
4) After the tour, students report to the tour leader to debrief and you can decide how they use the rest of the day. You have the use of our 1850 schoolhouse, and we have educational materials you can use, or you can bring your own work for them. The Farm is yours to use until 3:00.
5) Each week that your group fulfills its volunteer responsibilities, your group earns back $100 of its deposit (potentially $1200 total).