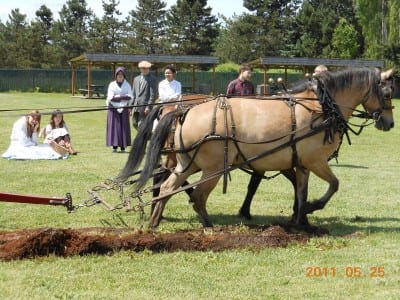 My favorite thing about life on any farm is the change of the seasons, magnified here by the human activity that follows it.
Nature puts on the big show every spring. Lilacs, iris, apples, chesnuts, maple trees, and roses burst into bloom, as the buses unload their energetic occupants to explore the chores and privileges of pioneer life. Summer is less exuberant, more focused, with events and tours for adults and families, camps that allow children to explore more of pioneer life, and long quiet days of availability to local guests and tourists from around the globe.
Fall is beautiful here, and in some ways the best time to see the Farm. The gardens and orchards are full of fruit, and the Farm throbs with history. This is when the pioneers arrived in great numbers, and their stories are full of autumn foods and autumn weather. In winter, the mud and cold take over the place. Humanity overcomes it with a burst of Christmas cheer, and then settles in to persevere the wet drizzle that prequels the abundant verdance of spring on the Farm.